Are you looking for a M
ultifunctional
and easy-to-use product that will make your engraving work easier?
🤩🤩🤩Take your DIY Projects to the next level in less than ONE MINUTE!!! Make your crafts unique with the Professional Engraving Pen. Your results will astonish everyone around you.  ✨ ✨✨
FEATURES:
✅ 

Quality & Durability:

 

This mini engraver is constructed of high-quality materials that are stable, long-lasting, and dependable. The machine is made of exquisite high-grade metals and carefully selected electronic parts with long service life.
✅ 

Efficient Working:

 

This engraving pen produces effective engraving results. It has a high-speed range of 5000-25000r/min. Its speed can also be adjusted in three levels to make engraving easier.
✅ 

Wireless & Simple to Use:

 

This mini engraver tool is small, lightweight, and portable. It is very easy to hold like a pen and use for extended periods of time. Holding it will not cause any discomfort in your hand. It has a wireless design to make work easier.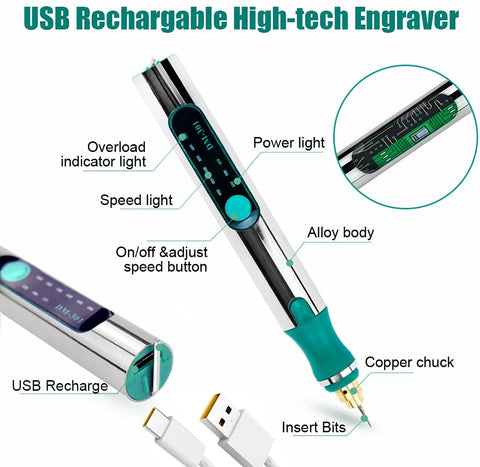 ✅ 

Rechargeable:

 

This electric engraving pen is rechargeable. You can charge it with a USB data cable, a mobile phone fast charger head, a power bank, or a computer, which is convenient and quick.
✅ 

Multifunctional:

 

This engraving pen is designed to be multifunctional. It can be used to carve metals, ceramics, wood, pebbles, plastics, and other materials. It is also appropriate for do-it-yourself or craft projects. 

No skill required a

nyone can create amazing crafts, it's super simple to use. 

Extremely comfortable.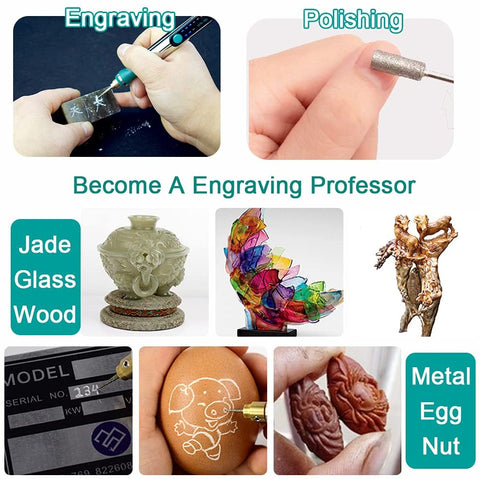 Specifications:
Set A B:
Speed ​​adjustment:

 

three gears adjustable
Speed:

 

5000-25000r/min
Power supply:

 

USB charging
Power:

 

25W
Size:

 

18*6*4.5cm
Set C D E:
Speed ​​adjustment:

 

three gears adjustable
Speed:

 

5000-18000r/min
Power supply:

 

USB charging
Power:

 8

W