A personal air conditioner air cooler is a portable, compact air conditioner that cools, cleans and moisturizes the air around you-wherever you are.
FEATURES:
❄️【High Efficient Cooling】 air cooler adopted 2022 newest technology, featuring an industry-leading honeycomb waterfall system that passes warm air over ice cold water to distribute cold air throughout a room, which is able to reduce the surrounding temperature up to 45-50℉ and instantly provide you a powerful,cool, refreshing airflow. Moreover, you can also add cold water or ice cubes on top for better cold breeze.
❄️

【700ML Water Tank & Long Lasting】With a 700ML sealed water tank, this air cooling fan can work 2-8 hours when filled up and avoids frequent addition of water.It will start protection and change to natural wind when the water runs out, so you don't worry about it when you fall asleep. The water level perspective window allows you to view and control the water level at any time. The design of the water tank on the top can increase the convenience of adding water and avoid leakage.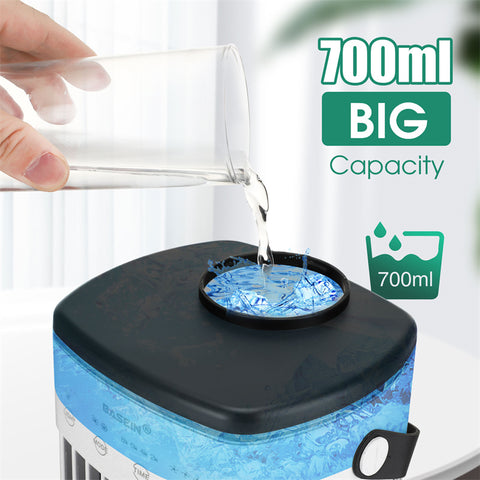 ❄️

【 Easy to Use】

The water cooling system of the personal air conditioner air cooler not only cools, but also cleans, and moisturizes the air. Just add water, press the button, relax and enjoy the cooling breeze. The device takes up a minimum of space and consumes little energy. Four Soft pads at the bottom of the freshener fix the device, thus providing a stable position on a smooth surface.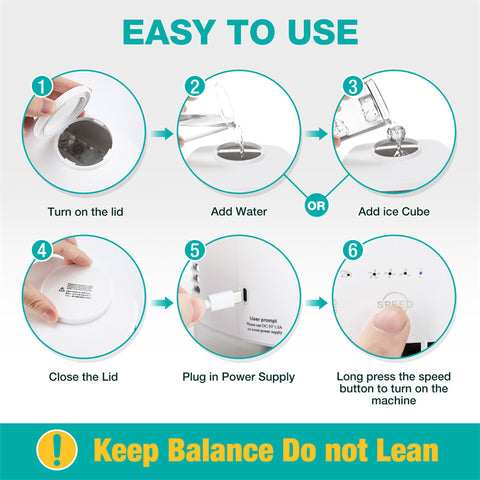 ❄️

【Quiet Cooling& 7 Colors Light】 This personal air conditioner is expertly engineered and adopts a unique air-duct design with fluid mechanics to produce little noise that won't disturb your sleep. The 7 Colors changing LED Lights create a comfortable and relaxing sleep environment, providing you a soothing and cooling sleep during hot summer nights.The light can be turned off.USB charging port can be powered with power bank, laptop,adapters, mobile power sources, computers, vehicle chargers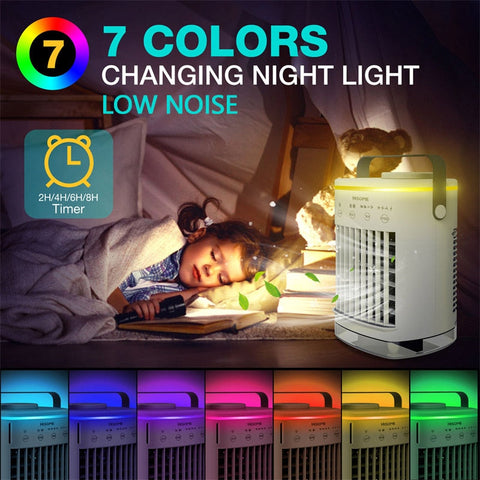 SPECIFICATIONS:
Water Tank Capacity: 700 ml
Voltage: 5V
Feature: Table Fan, Air Cooler, Car Air Conditioner, Portable Air Conditioner, Home Air Conditioner
Fan Weight: 0.9 kg
Fan Noise: 15 dB
Certification: CE
Air Conditioner Size: 6.5 x 5.6 x 9.5 inch
Air Conditioner Material: ABS + PC
PACKAGE INCLUDED:
1*Mini Air Conditioner Air Cooler +manual+Charging Cable
NOTE:
 Please kindly note that this is a personal space air conditioner fan and it couldn't cool the whole room. It means that you have better keep it by your side.

Long press the "wind speed" key for 3 seconds to turn on and off the device.

Personal air cooler only works normally with 5V 1.5 above adapter(kit not include adapter).

Water Tank Max.Volume is 700ML,Adding 3/4 Water in the Tank is the best, Do Not Full Filled.

Recommend to clean the water tank once a week to clear scale.

If you would like to enjoy cooling wind you can ice cube in the water tank.